Nero Musqué: history and new look of a wandering grape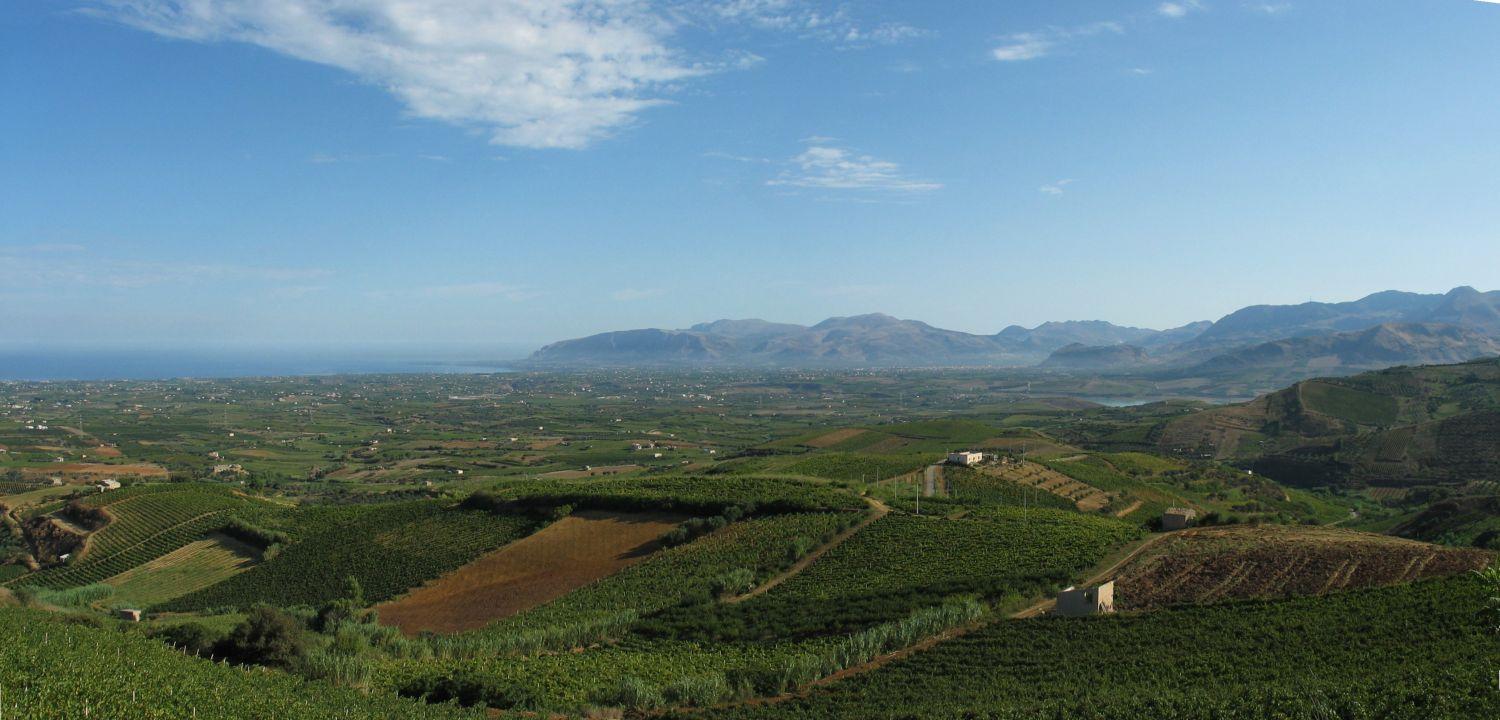 The desire to experiment led Ca' Lustra to Sicily, where the wandering Nero Musqué found the ideal place to bear fruit. This gave birth to our Nero Musqué.
THE JOURNEY
Migrating among Mediterranean islands, coasts and hinterlands, the Black Muscat had settled in the Euganean Hills. It yielded interesting results here, albeit in small and inconsistent quantities due to the plants' challenging pollination. An old vineyard was about to be uprooted and Franco Zanovello salvaged some cuttings at night, taking them with him to Sicily.
Ca' Lustra's Sicilian adventure began in the early 2000s with an experimentation on Muscats conducted in collaboration with the Regional Institute of Vine and Wine of Sicily (now PICAL). This partnership provided the opportunity to plant the Black Muscat on the island. In just a few years, with the purchase of a few hectares in the Costa di Bisaccia area near Grisì (PA), we went from a few units to reproducing a few thousand plants that now inhabit a hectare of vineyard on tuffaceous sands at about 400 meters above sea level.
Overlooking the Gulf of Castellammare, caressed by the constant sea breeze and surrounded by Mediterranean vegetation, the Black Muscat found peace. The results have always proven to be enologically interesting and we managed to keep a tiny tradition alive: a Muscat wine from black grapes.
NERO MUSQUÉ TODAY
Improperly, we still call it "Moscato Nero." It had even been removed from the ampelographic register (national catalog of existing grape varieties). It took years to rehabilitate it after losing the name "Moscato Nero di Parenzo," which identified it in the past. Today, we are happy to call it "Moscato delle Rose" or "Moscato Rosa." Officially, because affectionately for us, it is still "Moscato Nero" or "Nero Musqué" – the name we gave to the wine, a nod to its colour and musky notes.
From the first vintage produced in 2008, we never stopped studying and experimenting with this plant, always with the aim of accompanying its growth without forcing it. We are still learning to understand its timing and needs, aware of its strong character. A wild yet generous grape variety.
The ventilated and sunny location where it now resides, promotes proper pollination and consistent production. In the Euganean Hills, there were frequent years when it didn't even bear fruit. In Sicily, the harvest in mid-August of overripe clusters allows us to obtain a dense and sweet juice. Fermentation begins and ends spontaneously over the course of a month, after which the wine simply rests in old oak barrels until it naturally settles.
NERO MUSQUÉ 2021: SAME SPIRIT, NEW LOOK
After about fifteen years of experimentation, we have found a new space for our Nero Musqué. In Sicily, we own vineyards, not a winery. Over the years, we relied on local companies for our vinifications, bringing the finished wine to the Euganean Hills, where it only needed the final months of aging and the last checks.
After so much wandering, the collaboration with the Valdibella Agricultural Cooperative for vinification has solidified. We share both work and ethical choices. From here came the idea of creating a shared product: the wine receives increasingly careful attention and the graphic design is renewed to be displayed in both cellars, with a back label revealing the project.
We can't wait to tell you more and have you taste the new wine. In the meantime, we want to pique your curiosity.
SENSORY ANALYSIS OF NERO MUSQUÉ 2021
Garnet red with orange nuances on the nail. On the nose, it releases broad hints of plum, dehydrated apricot, candied orange peel, sweet spices and fig jam. The taste is sweet, warm and enveloping, soft but accompanied by a fine tannin. The finish is pleasantly fresh, during which the notes of dehydrated fruit re-emerge.
PAIRINGS WITH NERO MUSQUÉ
The sweet notes of Nero Musqué make it ideal for pairings with crunchy dried fruit, not too dark chocolate and some blue cheeses. Nero Musqué is also a perfect wine for meditation and a gem to share with family and friends. Uncork and serve at 14-16°C.
TO KNOW MORE
On our website, you can view the technical sheet of our sweet wine. By signing up as a WineLover, you can also find additional information.
On the weekend of November 11-12, 2023, on the occasion of "Cantine Aperte a San Martino," we are organizing an original tasting, comparing three versions of Moscato Nero. Learn more by clicking here.